Find out why everyone is packing up and moving to Massachusetts…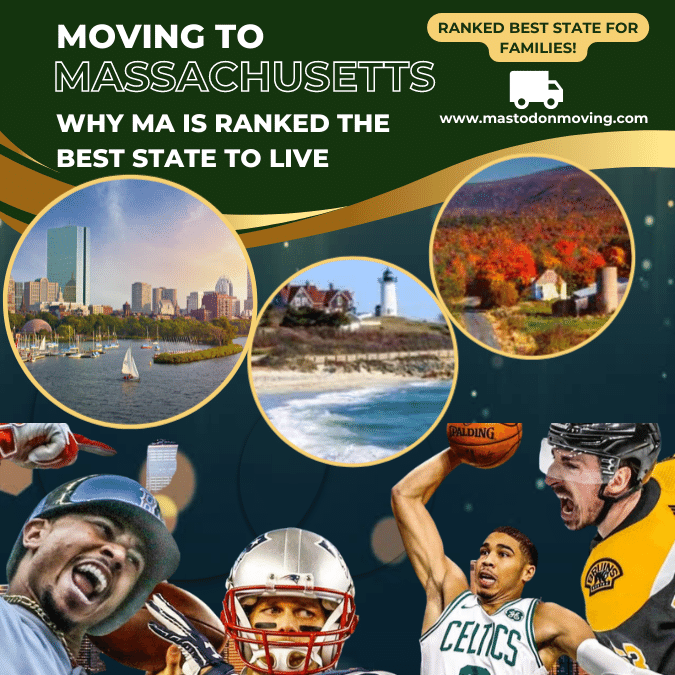 MAKING THE MOVE TO MASSACHUSETTS
There is no doubt Massachusetts has a lot to offer in terms of education, culture, and economy. It is home to some of the best schools and universities in the country, including Harvard, MIT and Northeastern. The state also has a rich history, with many historical sites and landmarks, and a vibrant cultural scene. Additionally, Massachusetts has a strong economy, with a high median income and a low unemployment rate. It's not a surprise that Massachusetts was just voted the Best State To Live In For Families by the US News. Here are some reasons why moving to MA is a great decision:
WHY PEOPLE LOVE LIVING IN MASSACHUSETTS
The Cities
Boston and Worcester are not the only cities in Massachusetts that offer excellent dining and entertainment options. Smaller cities Quincy, Salem, Amherst and Springfield all have their own atmosphere and are great day trips
Proximity
Massachusetts is a smaller state but offers so many options: beaches, mountains, cities, skiing, museums, all within a very close radius. Maine hiking, New Hampshire Skiing, Vermont Breweries, and New York City are all less than 3 hours away.
Education
There is no shortage of educational opportunities in MA. Families can choose from public schools, private schools and many homeschooling choices. Many universities put on free or low cost educational programs like Harvard's Extension Program, Northeastern's Science Club For Girls, and the UMass Homework House.
Recreation
From rowing to ballet, Massachusetts recreation facilities and outdoor spaces are nothing short of the best in the country. Most towns have a trail system and there are over 150 state parks and 16 national parks in Massachusetts. Some favorite spots from residents are biking the esplanade, frolicking on Martha's Vineyard, climbing Mount Greylock and mountain biking Hopkinton State Park
Access To Programs
Massachusetts has an incredibly diverse population in all aspects. There are many state services and social programs to help anyone that needs assistance.
IS MASSACHUSETTS A GREAT PLACE TO LIVE
Massachusetts is considered by many to be one of the best states to live in for a variety of reasons. One of the most notable is its excellent education system. MA institutions attract some of the brightest minds from around the world and provide ample opportunities for learning and personal growth.
In addition to its educational offerings, Massachusetts also boasts a rich cultural and historical heritage. The state was one of the original 13 colonies and played a significant role in the American Revolution. As a result, it is home to many important historical sites and landmarks, such as the Freedom Trail in Boston and the USS Constitution Museum in Charlestown.
The state also has a vibrant arts and culture scene, with world-renowned museums, theaters, and concert venues. From the Boston Symphony Orchestra to the Museum of Fine Arts, there is always something exciting happening in Massachusetts.
Furthermore, Massachusetts has a strong and diverse economy. The state is home to many major technology, healthcare and finance companies, and the economy is consistently ranked among the top in the country.
Lastly, Massachusetts is known for its natural beauty and recreational opportunities. From the rolling hills of the Berkshires to the sandy beaches of Cape Cod, the state has something for everyone. Additionally, the state has a variety of state parks and natural preserves that offer hiking, biking, skiing, and other outdoor activities.
In conclusion, Massachusetts is a state that offers something for everyone, from world-class education and culture to a strong economy and beautiful natural surroundings. It's a great place to live, work and raise a family. 
If you are looking for movers in Massachusetts, we look forward to helping you!