If you have an insurance loss due to water, fire, or a natural disaster, your insurance company will appoint a restoration company to asses and mitigate damages. A restoration company will need to hire a highly skilled 
professional moving company
to assist with a packout.
In the context of moving, a packout refers to the process of packing up all the items in a home or office for transport to a new location. This involves carefully boxing up all of the belongings, labeling them for identification and inventory purposes, and preparing them for safe transportation. An emergency moving company will pack up your belongings using specialized packing materials and techniques. The movers will carefully wrap and protect fragile or valuable items, disassemble furniture if necessary, and ensure that everything is properly labeled and organized for transport.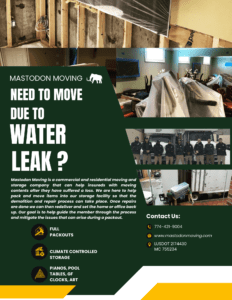 Why Are Packout Companies Hired?
The packout process is an important step in any move, as it ensures that all of your belongings are safely and securely transported to your new location. By relying on the expertise of professional movers, you can minimize the risk of damage to your items and reduce the stress of the moving process. Mastodon Moving has been the premier packout company in New England and performs packouts for insurance, restoration and mitigation companies in MA, RI, NH, VT and ME. Because Mastodon Moving is a trusted moving source, many companies, institutions and government agencies rely on their moving crews.
Generally, a moving company that performs packouts must offer these services:
Climate Controlled Warehouse with over 20,000 sq ft.
Specialty Packing For High Value Items – Pool Tables, Pianos, Chandeliers, etc.
Extreme Attention To Detail Moving Crew
Coverage Limits of 5M+
Moving Companies who complete packouts for insurance companies are not your run of the mill moving company. Any moving companies that do packouts are referred by someone.
Learn More: Moving Companies Near Me