How To Prepare For The Movers?
The best way to prepare for move-in day is to:
Make plans for your little ones (kids and pets) – they should not be underfoot at all during the move
Use our moving checklist
Make sure you know what time to expect your crew to arrive
Plan ahead where you'd like your boxes and furniture to go and have them color-coded
Clear all hallways and walkways
Be available to answer phone calls
When should I start packing to move?
If you have lived in the same home for 20+ years, we recommend that you start packing your first box eight weeks before your move. Your organization process should start weeks before this.  which would include all important documents and valuables, so they're all in one place. If you have lived at your residence for a year or two, a week or so will be a more accurate time frame to begin packing up. Three-Five days before your move is a good time to start packing suitcases.
But remember—if you want to avoid last-minute (and potentially costly) complications, it's best to be prepared and give yourself plenty of time to finish packing before the movers arrive. We always suggest taking 1-3 see through plastic bins and label them "essential bins" which will have everything you need for the first few days in your new place. Here are some packing tips
What To Do Before The Movers Arrive
Now that your move is officially on the books, there are a few things you can do right away to prepare for your professional movers. We've got a moving checklist for you so you can stay on track:
Donate and sell items. If you haven't already decided which items are not going with you when you move, now is a great time to have a garage sale or make a donation drop
Alert your neighbors. Once you lock down your move date, it's a good idea to inform your neighbors that you've hired a moving service so they can plan for the big moving truck to arrive.
Find out if you will need a moving permit. If you're moving into (or out of) a big city, you might run into parking issues with a large moving truck. In Boston you can order a

moving permit

to secure parking or go to city hall and get one yourself
Hire a sitter. This is for animals and kids – they should never be near the moving crew during a move for safety reasons
Get to packing. If you haven't paid for packing services, you're going to have to make sure all your items are packed. If you are moving just large furniture – make sure the furniture is empty and nothing is on top of any of the pieces.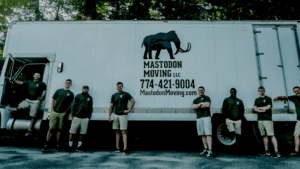 Connect with your coordinator. Your moving coordinator should be the main point of contact throughout your professional moving experience. You may wish to follow up with them a few days before your moving day to confirm your moving services.
Tell Your Movers About High Value Items. Most moving companies will encourage you to pack and transport those fragile items yourself. If you have high-value furniture or artwork your moving company will handle, take photos of their condition before they arrive. Mastodon Moving is a highly experienced high value item mover so all of your items will be safe during the relocation.
Disconnect Appliances and Electronics. Your moving company will not be responsible for disconnecting any of your appliances, so make sure you take care of that before they get there. This means disconnecting your stove, refrigerator, and washer and dryer from gas and water lines. It also means removing gasoline and oil from lawn mowers and propane from barbecues.
Get Your Home Moving Ready. It's important to ensure your home is as easy to navigate for the movers as possible. So it's a good idea to remove artwork, clocks, and shelving from the walls beforehand to avoid damage. You'll also want to clear all walkways and set aside items that you wouldn't like anyone loading onto the truck. Cleaning your home and dusting your furniture isn't a bad idea either.
Pack an essentials bin. This is a step people often forget to take! Before your professional movers arrive, it's wise to pack a moving box full of items that are essential on your first night in your new home. Think: toiletries, cell phones and computers (and their chargers), important documents, medications, and even clothes and towels. This will ensure that you have what you need while you wait for the rest of your things to arrive.
Movers Cannot Move Everything. Your movers won't be able to handle or transport hazardous materials for you. Propane, and pressurized materials will have to be left for the new owners or disposed of properly.
Have Some Cash. Tips are never expected but always appreciated on moving day to take out some cash just in case
PRO TIP: Photographs are a helpful way to preserve the condition of your belongings before your moving crew arrives. If you have electronics, it is advisable to show the crew they work before the move. This is especially true if your items are going into storage.
On Moving Day
Be Ready Prior To Truck Arrival.   You're expecting a moving crew so  water and some snacks are always appreciated. Your movers should come with all materials and tools needed.
Communication. Be present on move day and chat with your crew members regularly. If you have questions or concerns, don't hesitate to ask them or call your coordinator—especially if you see any damages happen.
Label. You are liable if there are items that didn't make it over to the new home so even though you tell the moving crew what goes at stays it's a good idea to label with sticky notes, especially if your items are going multiple places. Make sure to do a final walk-thru and look in each closet
Preparing for delivery day
Communicate with your driver. Once your items have been loaded into the moving truck, you can ask your coordinator to provide you with the phone number for your delivery driver.
Make a floor plan in advance. As you wait for your truck to arrive with all your belongings, you can start getting ready for delivery by planning where you would like movers to place boxes and furniture. Knowing where you need everything to go ahead of time will make delivery go a whole lot smoother—and that much quicker, too. We suggest using colored tape – different colors go with different rooms.
Final thoughts
Using a moving company should not be stressful, and the best way to get the best bang for your buck is to make sure you're prepared. From getting rid of unwanted items to packing correctly and taking photos, there are plenty of things you can do to get a jump start on your move. Because ultimately, the more you do to prepare, the faster your moving crew can move and the sooner you can get through the moving process.
Recommended Moving Help 
People Also Asked . . .